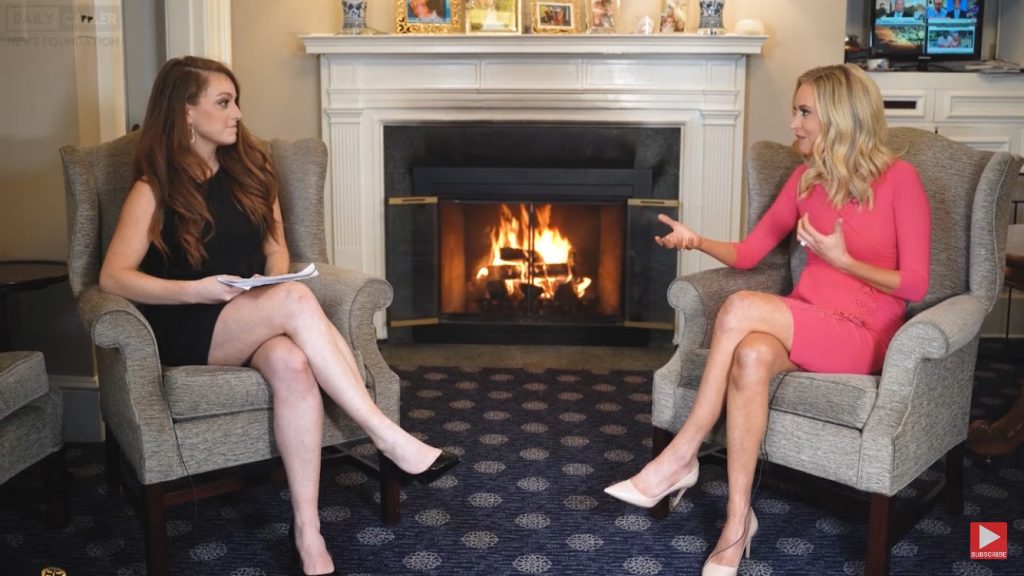 Mary Margaret Olahan interviewing Kayleigh McEnany at The White House
When you donate to a group, we know it is important for you to know how that funding is spent. We'd like to answer that question. It's true we always keep our eye on the bottom line. You won't find our editors sitting at expensive desks nor expensive marble flooring in our foyer. That's because we take our responsibility as a steward of your donation to heart and we figure you'd rather it go directly to missions and programs. Your largest investment, by far, is in the people we hire like Mary Margaret Olahan, a former fellow in our Journalist Fellowship Training Program. Thanks to your support, we were able to bring Mary Margaret on board about two years ago.
We asked Mary Margaret to share a little about herself and her fellowship so you'd have a better understanding of why we developed this program.
In Mary Margaret's own words….
I've loved writing since I was a little girl but wasn't sure that I had what it takes to be a journalist during college. After I graduated, I worked as a publicist for about a year and began to really immerse myself in the news. I slowly became frustrated with holes I saw in media coverage and began to wonder if I should be writing, rather than pitching other people's stories and skills. The Daily Caller News Foundation fellowship offered me everything I was looking for: the opportunity to work with experienced editors with nuanced news judgment who were willing to teach me and to hold me to extremely high standards. As someone with little experience, I was honored that the DCNF would take a chance on me and invest in my skills.
How Did Your Upbringing Provide Insight Into The Issues?
I'm the second oldest daughter in an Irish Catholic family of eleven children, and I was homeschooled until high school. While my background may have at one point been considered normal, most would now consider it pretty counter-cultural, and I find that it often informs how I find interesting stories or angles. For example, my Catholic background has helped me critically watch and report on how the media portrayed the Catholicism of Amy Coney Barrett versus the Catholicism of President Joe Biden. My background also gives me insight into a number of cultural issues, including topics like abortion and the pro-life movement or ideology taught to children in schools, in a time when these issue are frequently misreported or weaponized.
What are your concerns for our country? your family? your future?
I fear cultural issues looming larger every day: ideological doctrination in media, schools, and entertainment, dangers to innocence presented in technology, like pornography, restrictions on religious freedom, discrimination in the workplace, and more.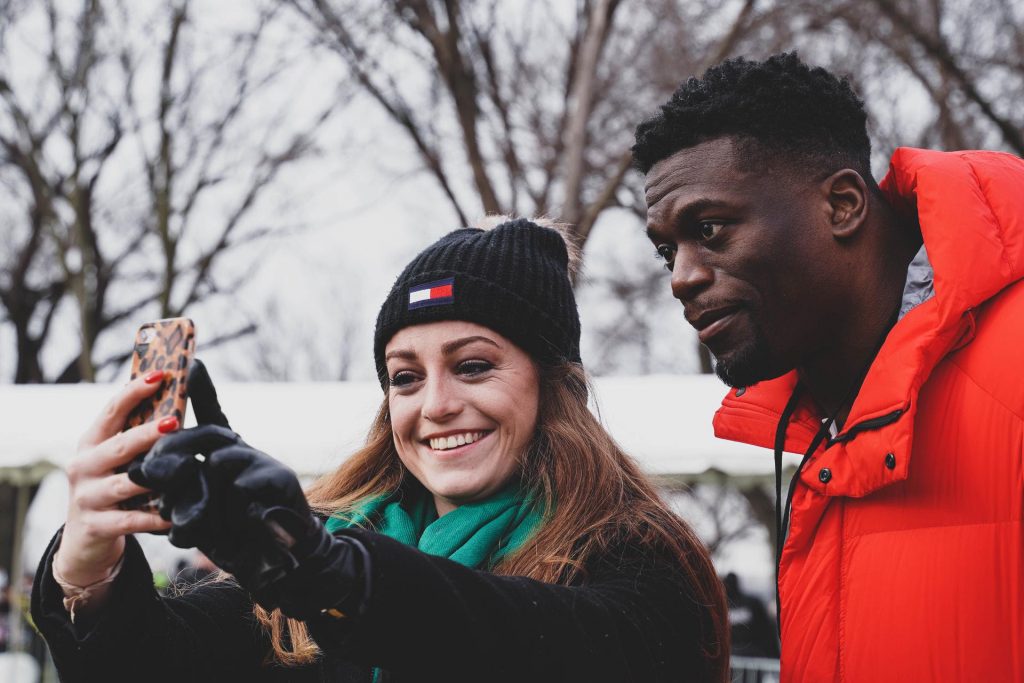 Mary Margaret Olahan interviewing former New England Patriots player, Benjamin Watson, at the March for Life in Washington, D.C.
Greatest challenges?
I'm really grateful to have had editors who push me to write without bias and to hear both sides of the story, no matter how much passion or interest I have in a topic I'm working on. This is probably the hardest thing I've tackled since starting at the Foundation with plenty of thoughts on our culture and little experience in journalism. It also took me a bit to adapt to "living in the news" and breaking out of the 9 to 5 work mentality, developing the eagerness to tackle breaking stories in my beat at any given time.
Mary Margaret, tell us what are your top stories?
My favorite story I've written was my first interview with Biden accuser Tara Reade in which Reade demanded "the same equal treatment" that politicians, media, and women's groups afforded to Kavanaugh accuser Christine Ford. I believe the story made a significant impact on news coverage of Reade.
I also am proud of my coverage of Netflix's "Cuties," a movie accused of sexualizing little girls. As conservatives melted down over clips of the little girls dancing, I watched the film to understand exactly what was going on and be able to report on it with fairness. My coverage was cited by a number of lawmakers who called for investigations into the movie.
Back in 2019, I tracked down a documentary filmmaker who had interviewed prolific abortionist Ulrich Klopfer and told me the chilling story of how Klopfer, who hoarded thousands of aborted baby body parts, once blamed World War II bombings in Dresden for his perception of "human beings" and "what they do to each other." This story was cited in the Indiana Attorney General's investigation into the abortion doctor's actions.
Media treats Catholicism in very different ways depending on politics. It's taken a lot of time and effort for me to learn to cover this topic with fairness, and I'm really proud of the work I have produced on stories like this one, this one, this one, or this one.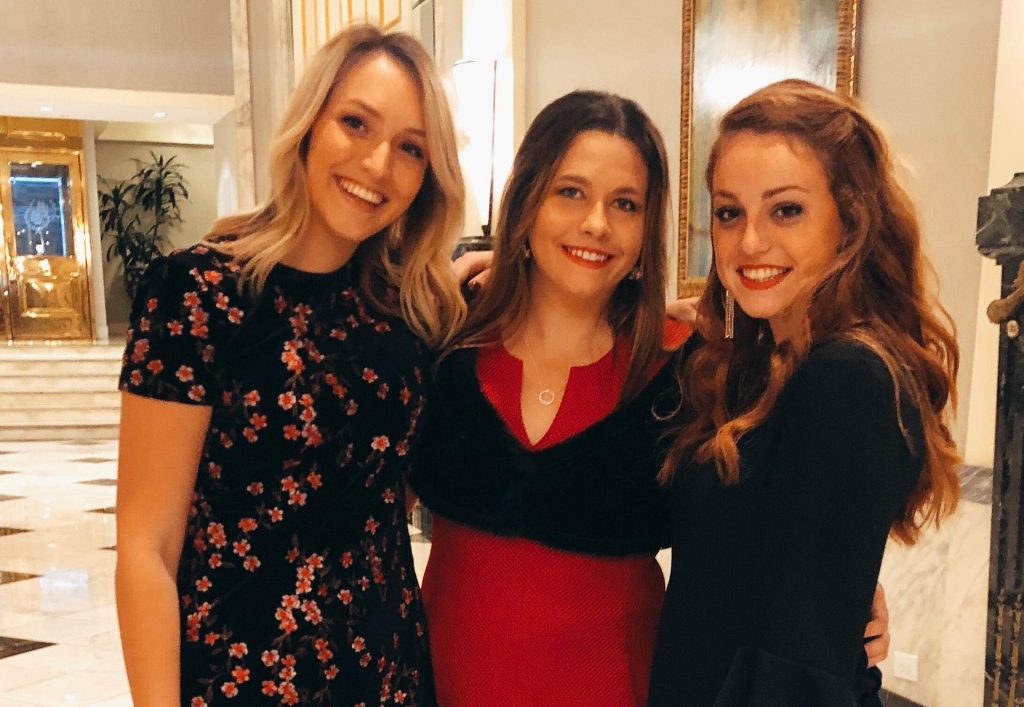 Mary Margaret Olahan along with Daily Caller Reporters Shelby Talcott and Lauryn Overhultz at the 2021 Daily Caller News Foundation Awards Gala
What have you learned as a life lesson as a journalist?
So many things. Perhaps the greatest lesson I've learned is what my dad always used to tell me when I was younger, and I didn't totally understand: "the truth will set you free." Reporting the truth is always the right decision and will only enhance our country and our country's trust in the media.
In your own words has this fellowship been of benefit to you? if yes, specifically why?
This fellowship has benefited me enormously. As I've said, I knew very little about journalism before the DCNF took a chance on me and invested in me, and I will always be grateful for that. I especially appreciate how much time our editor in chief Ethan Barton has invested in me, ripping my stories to shreds when I was a wee fellow, then coaching me how to dig deeper, push for different angles, and figure out how to further stories that may have reached a dead end. The fellowship has allowed me to become a reporter, to write about topics of global interest, to engage with our country's greatest politicians, and to pursue my own creative interests, and I'm incredibly grateful for that.
---
More about our Fellows program
Our Fellows go through a rigorous training program. For two years, we provide on-the-job training, coupled with structured practical classes designed to quickly bring them up to speed. We set high standards. For example, while most major outlets expect 5 stories a week, depending on the nature of the reporting, we may require up to 3 or even 5 stories per day. We train them on how to write better headlines, how to cover both sides of any issue and how to do a FOIA.
Each fellow costs the program about $75,000 a year in salary, benefits, taxes, mentoring and training. We hope you will consider making a donation of any amount so we may help more young people just like her. Donate here. 
Mary Margaret and her colleagues are the future of journalism.